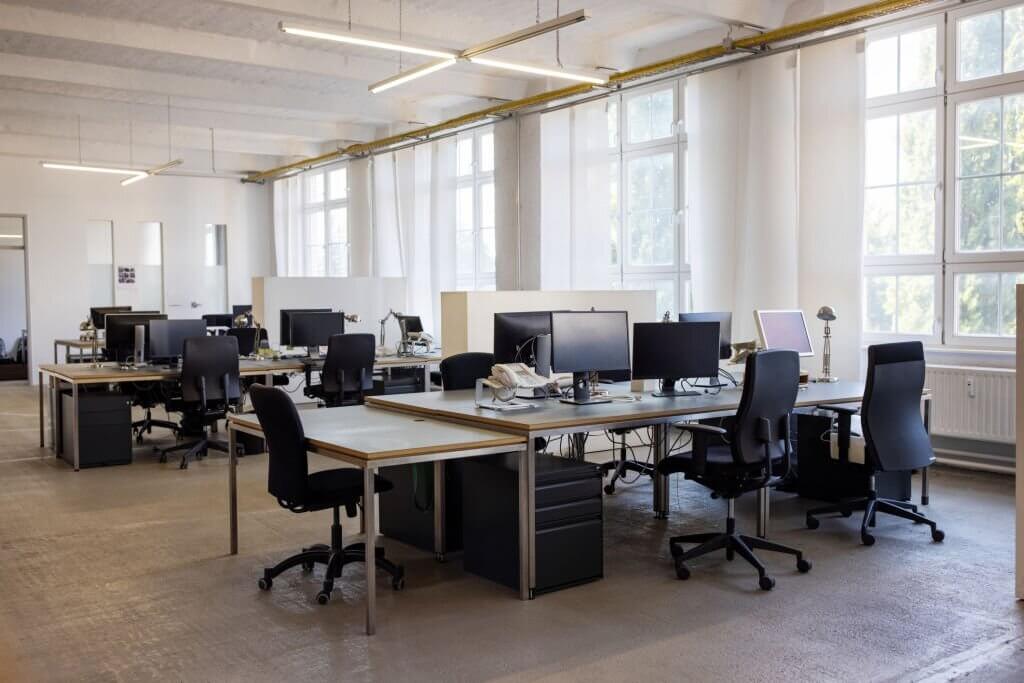 Inspire Your Clients With Outstanding Workspaces In Los Angeles
The first impression of your business on an employee, a client, or an investor says it all. It is the time when you can either win or lose the game. OC Office Furniture utilizes a proven approach to design and utilize your workspace that is luxurious and welcoming. This will help you impress and gain the trust of visitors and potential clients. We sell and buy new and used office furniture in Los Angeles to let our clients stay relaxed and out of worries.
For over 30 years, OC Office Furniture has been helping small and large businesses with excellent products and services. We have gained a reputation as a one-stop solution for all furniture needs in Los Angeles. We understand the value of time and money and thus we provide furniture services at reasonable costs. At our commercial furniture store, you'll get various modern used cubicles, chairs, tables, des sets, etc. at affordable prices. Whether you own a single office or a big corporate space, our professionals will assist you to choose the ideal furniture and create an attractive as well as functional work environment.
Developing a successful business is a kind of challenge that requires special attention and dedication. Our specialists can help you achieve a beautiful, functional, and productive workspace with minimal business disruptions.
We help Los Angeles businesses from the beginning of office space planning, buying or selling new and used office furniture, delivery & installation, to repair, and management. Contact us today to get the best deals on quality office furniture and services.
Tailored & Premium Office Solutions At Competitive Prices
Whether you're looking to buy furniture for a specific area or an entire office, you can rely on OC Office Furniture. We have an outstanding range of traditional as well as modern office furniture available at affordable costs. With us, you can get exceptional and desired furniture for your specific business type. Our collection of new and used office furniture in Los Angeles serves productivity, affordability, and business requirements. Have a look at our list of high-grade furniture services:
We help you with internal and external system furniture installation at short-term notice.
We help you provide new and quality office furniture like cubicles, tables, chairs, etc.
We help you dispose of old office furniture by offering fair liquidation services.
We help you provide optimized office space planning services to maximize the usage of the workspace.
We help you with professional and inexpensive office moving and relocation services.
We provide storage cabinets at rent for helping businesses store furniture safely during their move.
We help corporations by providing the best delivery and installation of screening and paneling systems.
We help businesses by offering them secure door locks and code keys production services.
Enrich Teamwork & Collaboration With Finest Office Desk Sets Los Angeles
Professionals at OC Office Furniture design offices considering both individual and group spaces. When a company's success is dependent on its employees, it's essential to create an environment that encourages collaboration. There should be defined spaces for teams to conduct improvised meetings and discuss information. Also, pleasant and comfy spaces help staff sit and work with clients for hours without any stress. We have a selection of desk sets in Los Angeles to create semi-private spaces.
With us, you'll get clean, elegant, and classy office desk sets that will set a positive vibe in the workspace. Replace dull, old-fashioned, and boring tables or desk sets with economical, environment-friendly, and alluring office desk Los Angeles. Invest in the ideal new and used office furniture to make your employees comfortable and happy. This in turn will help you get more productivity and thus more business.
How OC Office Furniture Is The Best Store For Furniture Needs?
OC Office Furniture has helped in the set up of several companies in Los Angeles for over 30 years. We not only help businesses by providing them with modern and eco-friendly office furniture but also various furniture services. We help you deliver, install, liquidate, relocate, repair, and storage facilities at reasonable prices. You can rely on us for your requirements of new and used office furniture Los Angeles as:
We have more than 30 years of experience in manufacturing and remodeling office furniture.
We have been helping businesses with optimized office space planning services using high-end technology.
We offer our clients the flexibility to choose customized office furniture Los Angeles to meet their needs.
We offer 24 hours seven days a week availability to help you with your furniture needs and queries.
We offer a wide range of affordable services including, installation, repair, relocation, storage, maintenance, and commercial delivery Los Angeles services.
We help clients dispose of and liquidate old furniture at reasonable prices.
Exclusive Products To Amplify and Esthetic Your Los Angeles Business
With more than 30 years of dealing independently in the market, we have mastered the art of transforming your brand's identity with our new and used office furniture in Los Angeles. We help companies operating in different industries like healthcare, education, hospitality, business, government, home offices, etc. with our artistic innovations. Our professionals can build medium to high-end office furniture.
Our commercial products that are available in the market go through rigorous quality control and various tests. We provide sustainable and eco-friendly furniture made from recycled and less harmful materials. Below is the list of our products:
Ergonomics and industrial design chairs
Modular office cubicles and workstations
Adjustable and smart desk sets
Modern and durable office tables
High-density filing and storage systems
Competent Office Space Planning Services Los Angeles For Smart Designs
Are you working to revamp your office and utilize space the best way possible? OC Office Furniture is up for the challenge. Our experts will listen to your ideas/requirements, answer your queries & help you plan and clear all your doubts. Utilizing advanced technology and our expertise we provide you with a wide range of plans to utilize the office space in the most efficient way. We also make sure that you get functional and highly optimized workspace designs that are beyond your expectations.
We offer unique and imaginative solutions that will conceptualize your office interior space. Our team of professionals will first understand your vision and execute plans to bring life to your workspace. Our superior planning and design services will collaborate seamlessly and represent your company's values and services. We help you build exceptional client relationships by offering a designated space to have clear communication.
Professional & Insured Office Relocation & Installation Services
Our job is not completed until we install office furniture in your desired location and help you start your business activities smoothly. With us, you will enjoy efficient and stress-free office moving services that are profitable for you and your employees. We have professional and experienced employees in our team that utilize the equipment required to make a successful move. We tackle all your needs and assure minimum-to-no downtime while office relocation in Los Angeles.
Our skilled movers will help you with an endless number of steps that are essential and delay in these steps can cause a loss in money as well as in money. Right from disassembling, loading, delivery, installation, and proper reassembling, we will hold your hand firmly. We help clients with non-disruptive moves and thus you can continue working during normal business hours.

New Used Office Furniture Los Angeles CA