Top Office Furniture Repair & Maintenance Service in Orange County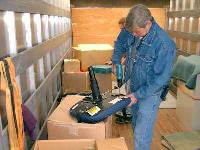 Have a problem with a jammed filing cabinet? Is your electricity not operating correctly? Is your desk falling apart? Does your chair continually sink? OC Office Furniture Service technicians can handle all of your office furniture field repairs needs. In most cases, we are able to send a technician to your site within 24 hours to diagnose your problem and repair it. With over 10 years of office furniture repair experience, OCOF has gained the proper knowledge and know-how needed to repair the most complex and or simplest of problems that may arise with your current systems.
Our staff will assist you in extending the life span of your investment in furniture by maintaining its appearance and functionality, thereby saving your corporation time and money in the long run. OC Office Furniture Services would like to retain you as a continuing customer and offers a service and maintenance program tailored to each customer's specific needs.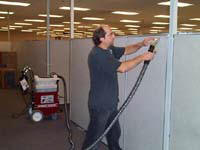 Panel and Upholstery Cleaning
Over time, dirt becomes embedded in the fabric and wears away at the fibers weakening the upholstery so much that it requires early replacement. Steam cleaning is relatively inexpensive and can breathe new life into your old office furnishings. Task chairs, couches, workstation panels, and modular panels can be made like new by our safe, biodegradable cleaning products.